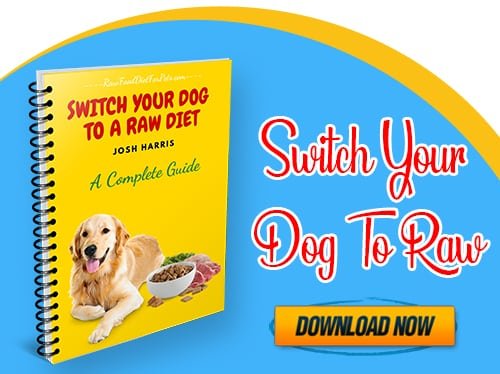 Time To Improve Your Dogs Health
Every year, we as humans make war cry resolutions to make ourselves healthier, to join gyms, to eat better and so on, the list can be as long as an arm, but while some people do not follow through, most will try and some more than others will push on through and see great results.
Now, while we make these plans, why not include our pets in them, dog or cat. It is not only humans who need regular exercise and healthy diets, our pets, a massive importance in our lives, need a healthy lifestyle too and sure while we are at it for ourselves, include your pet and use a similar formula as in, healthy diet and more exercise, it's that simple.
We here at Raw Food Diets For Pets have plenty of information all around this website for improving your dogs diet so be sure to have a good snoop and start changing, slowly, your dogs diet. Here are some tips to get you started.
1. Just like you said to yourself, this year you are going to eat healthier, well, while you are at it, include your pet. Change your dogs diet from commercial foods to a raw food diet that we like to talk about here on our site. Check out Maggie Rhines popular downloadable course called 'Dog Training – BARF – Feed Your Dog A Raw Diet' which has helped many of our readers and visitors to our site. We have reviewed this book here.
2. While you are out buying healthy recipe books for yourself, why not buy some for your dog or cat. There are so many books out there, so many excellent easy to use books, just go for it, and if you can't find a dog recipe book, we have spoken about a couple we like to recommend here on our site that can either be purchased on Amazon or even better, ready to download. Go here to read that post and some some excellent dog recipe books.
3. If your pet is overweight and you want to help the pet lose a lot of it, though walking is important, it may not be enough. Learning how to play games with your pet that makes them run and jump will drastically help them get in great shape as well as help you too, win win for all.
There are plenty of Youtube videos which teach you games or even better, tricks that make them super active. Also, there is a training manual and dvd we have used on our own pets which we love and recommend (simply because it works, is fun and easy) that involves speed and coordination, and this is the famous Elchaninov Eugene and his dog Tret using Parkour training that has become huge amongst pet owners, and we love it. (check out video below, so cool)
Your dog does not have to become a super coordinated Parkour star, but by using some of the training, this will help your pet become super fit and alongside a healthy raw diet, you and your pet will have a smashing fit 2016. Go have a look a Trets videos on youtube, amazing and be sure to check out his training manual by going here, brilliant way to get your dog fit.
So, you are ready, your dog or cat is ready, we really hope you make a big go of it this year and get both of you healthy or healthier if you are a fit person all ready. Just be sure to get into a good routine of healthy diets for your pet, learn from the best, find all the right information, and most of all, enjoy.
[kad_youtube url="https://www.youtube.com/watch?v=GW7fRwKxPf8&feature=player_embedded" ]
Save