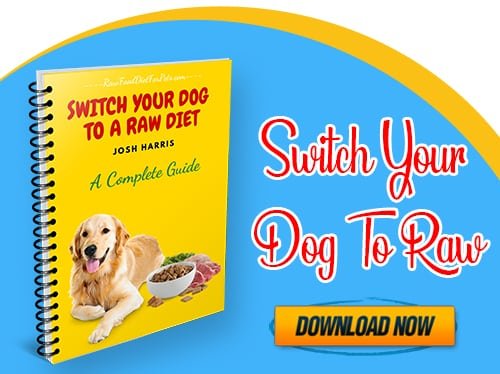 Can My Dog Feed On Cooked Chicken Thighs?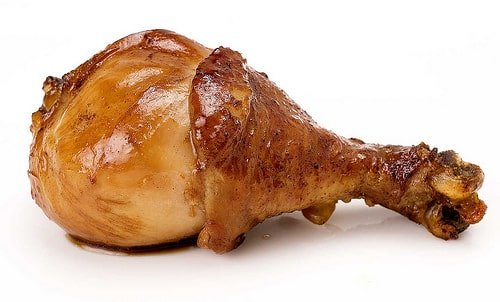 Considering many commercial dog food brands sell dog food that contain cooked chicken thighs, it, it's clear that you can feed your dog with chicken thighs, right?. Well, let's see.
Whats are the positives? It's a good source of protein and can be substituted for or added to the regular meals. Chicken builds lean muscle mass in dogs and has Omega 6 fatty acids that help sustain a shiny coat and healthy skin. Dogs need protein as a main source of energy, and chicken offers that boost without the big calorie count.
Are Chicken Thighs Safe For My Dog?
When it comes to feeding chicken thighs to dogs, most people are alarmed by the fact that they are fatty. However, there's no need to worry as these fats are highly beneficial to your dog. Chicken thighs are rich in mono-unsaturated fat that aid in weight loss, reduce cholesterol and even lower the risk of cancer and heart disease.
With sources warning against feeding raw meat to your dog – due to salmonella and bacterial infections, cooking the chicken can be a good way to keep your mutt healthy. Your dog will not only eat healthy homemade food, but it will also be good for the mutt's taste buds. Any healthy dog will love the taste of unseasoned homemade chicken thighs – whether boiled, roasted or baked – served as a treat or part of its main meal. You can mix those drumsticks with vegetables such as string beans or cereals such as rice.
Let's look at a few safety tips for your dog when feeding on chicken thighs:
Ensure you de-bone the chicken thighs. Cooked chicken bones easily splinter when cooked, which can lead to gastrointestinal tract puncture or cause choking.
Chicken ranks among the top allergy-inducing ingredients in dogs. That means you need to ensure your dog has no allergic reactions towards chicken. You can ask your vet to examine your mutt if you aren't sure.
---
Now if you are confused about switching your dog to raw food in general, we created a comprehensive guide to raw food which covers:
The best method to switch depending on your dog's age, health and prior exposure to raw food

The best methods to switch your dog to raw food

Example recipes and preparation instructions
You can access the Complete Guide To Switch Your Dog To A Raw Diet eBook here or click on the image below: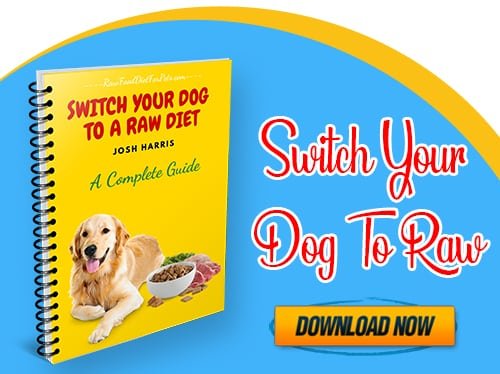 ---
How To Cook Chicken Thighs For My Dog
While chicken thighs are generally healthy for your dog, not many people know how to cook them properly. Some people feed their dogs heavily salted, and heavily spiced chicken meant for human consumption, resulting in allergic reactions and food poisoning. That said, spices like onion and garlic should stay off your dog's recipe unless you want to spend time and money on medical care.
Here are few recipes worth trying;
Baked Chicken Thighs
When I was switching from commercial dog food, I had no idea of how to cook chicken thighs for my dog, but this recipe came in handy. The recipe is simple to follow, and your dog will love the taste of the chicken thighs. Moreover, it's great when you don't want to feed your dog on boiled chicken thighs.
Ingredients
Procedure                                    
Preheat oven to 3500F to ensure your chicken cooks slowly without drying out.
Coat the cooking dish lightly with the olive oil.
Lightly coat the chicken thighs with the olive oil and lay them on the dish. That ensures that they don't stick together or on the dish when cooking.
Cook uncovered for 25-30 minutes.
Remove the chicken thighs from the oven, cut them into half to ensure they are cooked If not fully cooked, return them in the oven and cook longer. ( smaller pieces may require less time to cook fully)
Let the baked chicken thighs cool for about 20-25 minutes.
Cut the thighs on a cutting board into pieces that are suitable for your dog.
Serve it as a treat or with other foods like rice and vegetables.
2. Chicken Thighs and Rice Dinner
Homemade chicken thighs and rice is a nutritious dish often recommended by veterinarians. It's an easily digestible single-carbohydrate source with low-fat and a single protein suitable for cases like a gastrointestinal upset. This starch and protein combination is also known to stimulate appetite when a dog is recovering from an illness or surgery. Although it's not recommendable for long term daily use, cooked chicken thighs and white rice are nutritious enough for your dog.
This recipe is one of the simplest for those who are wondering how to cook chicken thighs for my dog:
Ingredients
5 pounds of raw chicken thighs
2 cups uncooked rice
Cooking The Chicken Thighs And Rice
Place the chicken thighs in a large pot and fill with enough water to cover them for boiling.
Reduce the heat for simmering and cook until the meat is white inside. The cooking time varies between 20-30 minutes, depending on the size of the thighs. Bone-in chicken thighs may need a longer time.
Ensure the thighs are fully cooked to avoid vomiting and diarrhea caused by bacteria found in undercooked or raw chicken.
Remove the thighs from the water and reserve the broth for later use. You can help cool them quickly by spreading them on a colander or a baking sheet and running cold water over them.
De-bone the cooled thighs and discard the bones. Cut them into pieces that are an inch or smaller according to the size of your dog.
Skim the fat on top of the chicken broth and pour it into a container. Measure 2.5 cups of the chicken broth and pour it into a pot
Bring the chicken broth to a boil.
Measure 1 cup of rice (for a big dog) and rinse it with plenty of water while stirring it with your fingers.
Rinse several times to help remove excess arsenic and starches from the rice.
Pour the cup of rice into the boiling broth and then lower the heat to a simmer. Cook for 20 minutes while covering with a tight lid (brown rice may take longer, about 40-45 minutes). When done the rice should be slightly soggy, and all the water should be absorbed.
Allow the rice to completely cool. This can be expedited by spreading the rice out on a baking pan and fanning it with a piece of cardboard.
Feeding Your Dog
Add the cooked chicken thighs to the rice in the recommended ratio of 2:1 or 3:1 and blend with a fork. You may add a few spoons of the chicken broth to make it smooth but not soupy.
Serve the meal according to your dog's feeding portion. You can add vegetables like carrots, green beans, and pumpkins to ensure that your dog gets all the nutrients needed to grow healthy. If your dog has been vomiting, you would need to feed a little at a time until it finishes a full portion of its regular meals.
Thats it, for anyone asking how to cook chicken thighs for my dog, we hope you found this suitable for you.
Bottom Line
There you have it; the answer to your question – can I feed my dog cooked chicken thighs?Again, you can feed your dog cooked chicken thighs as a treat or as part of its daily feeding portion. However, you'll want to remove all the bones in the chicken before feeding your dog to ensure that he doesn't get hurt. Nevertheless, your dog will love the taste and smell of homemade chicken thighs cooked with little to no fat.