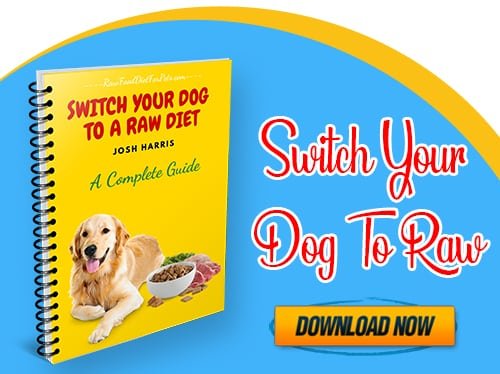 Can Raw Food Be Fed To Pregnant Dogs? What About Puppies?
This is an important question and one that we see come up again and again here or in dog forums – can pregnant dogs eat raw meat? What about puppies? And with the huge increase in people switching their dogs to a raw food diet to change the diets of their pets for the better, it is great to see people doing the proper research before making the switch. So lets answer the questions – can pregnant dogs eat raw meat and can puppies eat raw meat?
Can Pregnant Dogs Eat Raw Meat?
A lot of people are asking, wondering or worrying about their pregnant dogs and puppies. This worrying increases especially after the birth and arrival of new puppies. A lot want to know (especially people new to the raw food diet) whether this kind of diet is fine to try on a pregnant dog or new born.
The simple answer is yes it is fine, but you need to make some very special changes and consider a number food requirements:
Easily digestible
Good quality protein
Full of enough natural, essential vitamins and minerals
Now, the advnatage of raw food is that all of these requirements can be met by feeding a natural, raw dog food, but it must be balanced. The fact is, dog food sold by large commercial corporations are not natural and therefore not easily digestible, do not have the quality of protein and are fll of synthetic vitamins and minerals. So, pregnant dogs can eat raw meat, but you must take those important factors into consideration.
There are huge benefits to a pregnant dog when you feed her a raw food diet during and after the pregnancy. Here's an important example, you can easily boost your dogs calcium intake that they need which helps develop the pups bones aswell as replace the calcium they might lose from their own bones. Araw food diet will provide all the nutrition and vitamins a dog needs to help them through the difficult time of pregnancy.
Now if you are confused about switching your dog to raw food in general, we created a comprehensive guide to raw food which covers:
The best method to switch depending on your dog's age, health and prior exposure to raw food

The best methods to switch your dog to raw food

Example recipes and preparation instructions
You can access the Complete Guide To Switch Your Dog To A Raw Diet eBook here or click on the image below: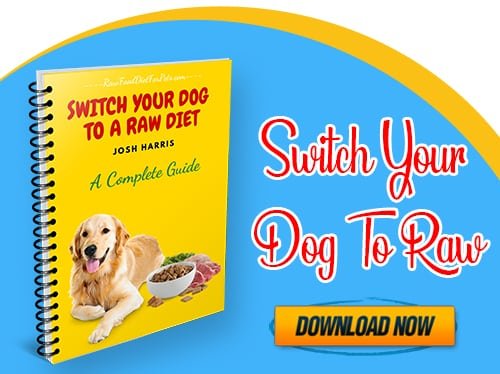 ---
What About Puppies?
As for puppies and whether or when to feed them a raw food diet; you should not start a puppy on this diet until they have nursed with their mother for at least 3-4 weeks. Soon after this time, you can start to wean the puppy from the mother's milk and start slowly to introduce a raw food diet through milk meals. We have talked about how to wean puppies on to a raw food diet in more detail here.
It takes a little practice and research to properly look after your pregnant dog and puppy but easy enough when you know how. We learned how to feed our puppies and pregnant dog and also how to wean our puppies from thorough research with vets, forums, etc.
Conclusion
So there you have it, if you've ben asking the question 'can pregnant dogs eat raw meat' or 'can puppies eat raw meat', we hope we've provided a sufficient answer. we commend your search for information and your obvious interest in the health and well being of your pet.
Save